A-capella
Maandag, 22 mei 2017
Advertenties
Advertenties
A-capella forum's
Bladmuziek
Wikipedia
Koren in Belgié en NL
A Capellaweb
Acapella Downloads
Welkom
Arenbergschouwburg
In alle stilte werkte Reset aan hun eerste full-cd die zij graag op Zaterdag 24 november 2007 in de Antwerpse Schouwburg hebben voorgesteld.Het was een groot succes,zowel het optreden als de verkoop van hun full-cd.Dikke proficiat mannen!
Reset (Belgié)
De menselijke stem is een wonderlijk instrument. Dat blijft Jan Bervoets bewijzen, ook na zijn afscheid van Voice Male. In Reset krijgt hij bovendien goed gezelschap van Chris Brooker met een rijk verleden in het Britse Flying Pickets. Reset is een nieuw vijftal dat zich met durf aan a capella waagt. Andere groepsleden Marc Willems, Heg Pans en Frank Van Baelen gaan al even ver in hun afwijkende aanpak van een genre dat inmidddels zijn aantrekkingskracht bewezen heeft. Bron:Leopold Laarmans- Marktrock" .............................................."Mamma mia, never thought A capella could be so fresh and envigourating. As a matter of fact Reset didn't bring real A capella, but rather a solid experiment through which A capella is blended. Just like the whisky in Irish coffee. It was more of a utopic anomaly which was the leading thread. And if Buscemi is part of the music festival scene, then the same applies to Reset. And if the Netherlands are a Theatre country, then the Highschool square was, on Saturday the thirteenth, a theatre square. In short: I think the men of Reset are ready for it. Make sure you book them !Leopold Laarmans- Marktrock"
Flying Pickets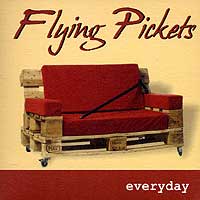 Male Barbershop
The Whiffenpoofs
The original Whiffenpoofs of 1909.
A-capella curcus
LAIS
Chris Brooker
BALKNET
Women A Cappella
ANONYMOUS 4
Women's Groups
Female Barbershop
Christian
Mixed Groups
startbewijs.nl 2002 - 2017
Rubrieken 28
Links 81

Door a-capella i.s.m startbewijs.nl